Downtown Holidays
Visit your North Market Downtown this holiday season! Support local business and shop at North Market for your holiday gift shopping and find unique additions for small gatherings, plus ingredients for holiday meals from all of our merchants! Don't forget we now offer online ordering through our Mercato shop – We are now offering $15 off orders of $50 or more for new and returning Mercato customers, ending 12/31 – just enter NMHOLIDAY at checkout!
Check back soon for more specials to be added!!!!
American Nut Company
American Nut Company is offering four different gift sets to choose from!
"Taste of North Market"
Comes in two sizes: Small = $50 & Large = $90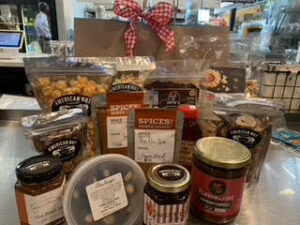 "Popcorn Lovers Box"
Includes 4 of our most popular popcorn flavors, microwaveable corn on the cob and specialty corn for traditional popcorn making at home! Popcorn lovers can take this home for $45!
"Holiday Snack Box"
The perfect gift for snack lovers! You will receive a mix of our top selling nuts and popcorn. Comes in two sizes: Small = $40 & Large = $75
"Nut Lovers Box"
Everyone will go nuts for this gift set. 6 of our top sellers for just $30!
Black Radish Creamery
All Ohio Cheese Box
Box includes:
3 pieces of Ohio Made Artisan Cheese (Choose from 7 local cheese options)
1 jar of BRC fruit preserves made with all Ohio grown fruit
Granville, Ohio
1 mini jar of Latshaw Apiaries Honey
Alexandria, Ohio
1 mini Maverick Chocolate Bar
Cincinnati, Ohio
1 Radish Pin & 1 BRC Fridge Magnet
Akron, Ohio
Windowed gift box with attached satin ribbon and live pine accents from Market Blooms ($50). Black Radish Creamery also offers custom gift baskets! Baskets begin at $60 with the option to include wine or beer. Made to order. Please allow a minimum of 72 hour notice for all custom gift baskets. Local delivery available by request.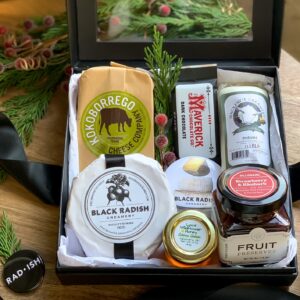 Brezel
Brezel is now offering plant-based Spicy Chicky Sandwiches every Wednesday!
Bubbles Tea & Juice Co
Do you know someone who deserves an extra special gift this holiday season? Give them the gift of Bubbles with our Take Home Boba Kit! Great for kids and adults alike, our kit includes everything you need to make your favorite Bubbles treat right at home. It even comes with a $10 gift card so you can give a little extra. Visit any of our great locations this holiday season to get your very own!
Box includes:
3 milk tea powders (Thai, Red Bean, Taro)

1 Can Sweetened Condensed Milk

1 Jasmine green tea

1 Tea Ball

1 Brown Sugar

1 Raw Bubbles 

$10 gift card

How to make Bubbles/Tea Card
Coastal Local Seafood
Beginning Friday, December 4th, Coastal Local Seafood is offering a holiday gift card special: Buy $100, get $25 free! Or buy $50, get $10 free! Coastal Local Seafood will also carry Alaskan King Crab Legs in for the holidays, along with their daily deliveries of fresh fish from coast to coast.
Dos Hermanos Tacos
Dos Hermanos is now offering Virtual Cooking Classes! Sign up online for a class, then purchase the ingredient kits for pickup or delivery in the Columbus area. Our first class is "Let's Salsa and Guac About It"  — SIGN UP TODAY: https://www.eventbrite.com/e/lets-salsa-and-guac-about-it-tickets-131098472059
Flavor & Fire
4 pack Hot Sauce Gift packs, $4.00 off each gift box pack
4 pack Salsa with Free Chips and $4.00 off 4 pack
Pastaria & Sarefino's
Penny's Meats
Penny's has Angus Beef Rib Roast for just $17.99/lb – save 1.00/lb!!!! PLUS: Angus Whole Beef Tenderloins for just $24.99/lb – save 3.00/lb!!!!
Stauf's Coffee Roasters
Eggnog Latte: (price varies by size, available for the month of Dec)
Holiday Grog whole bean coffee:  butterscotch, caramel & butternut cream ($18 / LB, available for the month of Dec)
Sleigh Ride whole bean coffee:  cinnamon & vanilla ($18 / LB, available for the month of Dec)
The Barrel & Bottle
The Barrel & Bottle is offering one free tote bag with a purchase of $100 or more. Plus, they are also selling 10th anniversary glasses for $10!
The Barrel & Bottle is also one of two exclusive shops in town selling Middle West Spirits bourbon cream. YUM!