Announcing Second North Market Location Opening in 2020 at Bridge Park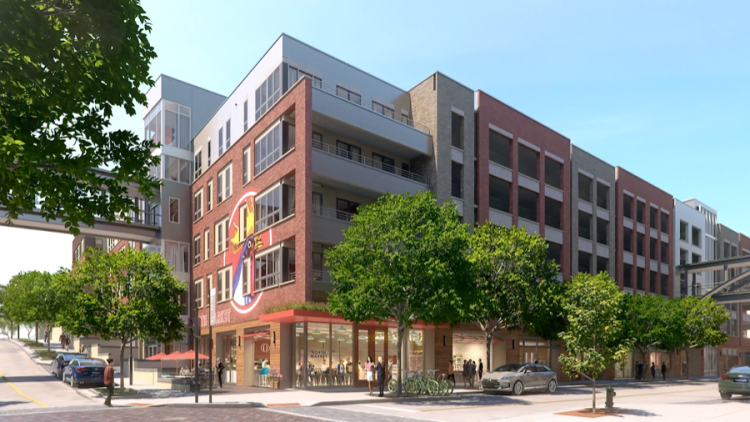 Columbus, Ohio (April 3, 2019)
Columbus, Ohio's historic North Market is pleased to announce the expansion of a second location in 2020. A subsidiary of the North Market Development Authority, the nonprofit organization that manages North Market, has reached a management agreement with Crawford Hoying and the Columbus-Franklin County Finance Authority to operate a new public market at Bridge Park, the newest mixed-use development located in downtown Dublin, Ohio. The new market's branding and merchant mix will be announced in the coming weeks.
"This is a tremendous opportunity for the historic North Market to continue its mission of incubating small businesses and celebrating best in class culinary experiences," said Rick Harrison Wolfe, North Market Executive Director. "We are excited about expanding our footprint in the Central Ohio region."
In operation since 1876, North Market was the second of four public markets built throughout the City of Columbus (North, East, West and Central) and is currently the only remaining public market in the area.
By opening the second true public market in Central Ohio, North Market intends to continue its 143-year mission to offer fresh foods including produce, meat and fish, poultry and game, and dairy. Additional items will include flowers and a healthy mix of bakery, confections, gifts, beer/wine/spirits, and prepared foods.
"By linking 'food with place,' public market systems can be vital centers of exchange connecting rural and urban environments and places that anchor local culture and social life for all residents," said Wolfe.
Currently under construction in the newest phase of Bridge Park, the market will be located on the ground floor at 6736 Longshore Street and is expected to open in spring 2020.
"Throughout planning the next phase of Bridge Park, we've been excited about the opportunity for a public market and knew North Market would be the perfect addition," said Matt Starr, Director of Development at Crawford Hoying. "We want to bring the freshest solution to not only Bridge Park tenants, visitors, office users and residents, but to Dublin and its surrounding communities. The new public market at Bridge Park will provide just that."
The new location is being designed with merchants at top of mind. With an open market layout, it will include 22,000 SF of front of house space for 20 merchant stalls to operate from, and approximately 10,000 SF of back of house space with loading docks. In addition, the new market will be able to accommodate both small and large events and offers direct indoor and outdoor access.
"We've been excited for the opportunity to design this second location from the ground up," said Jeff Pongonis, Board of Trustees President at North Market Development Authority. "Throughout the process, we've been careful yet excited to honor the essence of what North Market is and has been while taking advantage of the opportunities a brand new facility has to offer."
North Market is now reviewing merchants to operate at their location at Bridge Park. Interested vendors are encouraged to learn more and apply here.

Image Provided by Kimberly O Design

Image Provided by Kimberly O Design

Image Provided by Crawford Hoying Development

Image Provided by Kimberly O Design

Image Provided by Kimberly O Design
---
Public Market Community Impact
A true public market primarily sells food. Each public market specializes in different types of products, but typically, a shopper can find produce, meat, fish, dairy products, baked goods, coffee, spices and various specialty and prepared foods. Some markets also sell flowers, beverages, crafts or other related non-food items. In addition to providing a place to shop, a public market is a bustling and vibrant place that brings people together to taste new flavors, learn from educational workshops and classes, watch the process of food being made, or develop new friendships.
North Market's upcoming expansion is also notable as the first public market to add a market hall in the United States in the past several decades.
"To plan a community around a public market is a wonderful idea. The public market is a center for community and culture. Historically, cities themselves grew up around their markets. Over time those relationships were lost, but it is wonderful to see that they are being rebuilt; that public markets are back," stated industry expert David O'Neil, International Market Consultant and Senior Director of Public Markets, Project for Public Spaces.
"Columbus once had a market system with a total of four public markets. North Market is the last remaining. We would love to resurrect that type of system in Central Ohio," said Wolfe. "A public market is a civic resource for everyone in the community. Our hope is that public markets can once again become a driving force in our communities."
Public markets provide multiple economic, social, health and environmental benefits that are essential for creating healthy, vibrant and extraordinary places for people to live, work and play.

Rick Harrison Wolfe, Executive Director, North Market Development Authority
On location at Bridge Park's public market construction site
---
About North Market
In operation since 1876, North Market is Columbus' true public market. More than 30 merchants offer a wide variety of fresh produce, meat, poultry, seafood, flowers and other specialty food items. The Market also provides an international selection of freshly prepared foods, distinctive gifts and personable service from owner/operators and is home to the oldest Farmers' Market in Central Ohio. The North Market is open daily and located steps away from the Greater Columbus Convention Center and Nationwide Arena. North Market is managed by the North Market Development Authority, a not-for-profit 501(c)(3) organization. To learn more, visit northmarket.com.
Contact: Meghan Brouillette
Director of Communications
North Market Development Authority
614-463-9664 (Option 1)
---
About Bridge Park Located in the heart of Dublin, Ohio, Bridge Park is a community built on the idea that what matters most is not only where people live, but how they live. The mixed-use development consists of apartments, condos, restaurants, retail shops, office space, hotel and events center providing tenants and visitors the convenience of walking to their next adventure. Once completed, Bridge Park will include 840,000 SF of Class A office, 195,000 SF of restaurant/retail, 720 for-rent residential units, 150 for-sale condos/townhomes, a 150-key AC Hotel by Marriott, a 145-key SpringHill Suites hotel, an 800-person events center and 4,700 parking spaces. To learn more, visit www.bridge-park.com. Video Highlighting Phase 2 of the Bridge Park Development: VIDEO.
---
About Crawford Hoying
Crawford Hoying is a full-service provider for each aspect of real estate development, management, construction and sales in today's dynamic real estate market. Invested heavily in the Ohio market, Crawford Hoying has developed several mixed-use projects including the transformative Bridge Park in Dublin and Water Street District in Dayton. To learn more, visit www.crawfordhoying.com.
Contact: Ted Orr
Director, Development Experience
Crawford Hoying
614-335-2021