Downtown Farmers' Market
Every Saturday, June 4 – October 29
8:00am – 12:00pm
The North Market Downtown Farmers' Market returns! With a list of growers, makers, and artisans, the original farmers' market in central Ohio will offer product that complement what's inside the historic North Market. Live music and local organizations will also set up each week to offer entertainment, educational information, and fun activities. For more than 145 years, guests have been coming to North Market to support local merchants, farmers and makers. We are proud of our heritage in the community and happy to be home to great events, such as the original farmers' market in central Ohio.
The Loyalty Program is also returning this year! Guests will have a chance to win monthly prizes and a grand prize based on regular attendance at the farmers' market. Pick up a card at the North Market Downtown info table and bring it back to get stamped every Saturday. Prizes will range from gift cards, North Market items and farmers' market items.
The application for the 2022 North Market Downtown Farmers' Market has closed. Please email events@northmarket.org with questions regarding Farmers' Market opportunities post application deadline.
Steps to apply to be a vendor for the 2022 North Market Downtown Farmers' Market:
Read through the 2022 vendor rules & regulations to determine details, such as: eligibility, cost, space and application timeline. Please read through the whole document prior to contacting North Market for questions. Rules & Regulations can be found HERE.

Apply via ManageMyMarket by clicking HERE. If you are new to ManageMyMarket, instructions on the process can be found HERE. Please only apply to dates you intend on committing to be onsite for and paying all fees. Please reach out to ManageMyMarket for account troubleshooting.

Refer to the application timeline for deadlines and when to expect status updates on your application.
Timeline
Friday, February 1: application to apply opens.
Friday, April 1: deadline to apply.
Monday, April 4: notice of acceptance, rejection or waitlist.
Monday, May 9: all fees & required documents due. Failure to pay all fees and/or provide copies of all required documents by this date, will overturn your acceptance status. Your reservation is not guaranteed until payment & required documents are received. 
Saturday, June 4: first farmers' market.
Saturday, October 29: last farmers' market.
Note: all other North Market event applications will be available in ManageMyMarket. Please check there for all available opportunities.
Special thanks to videographer Matchbox Ltd!
Seasonal Vendor List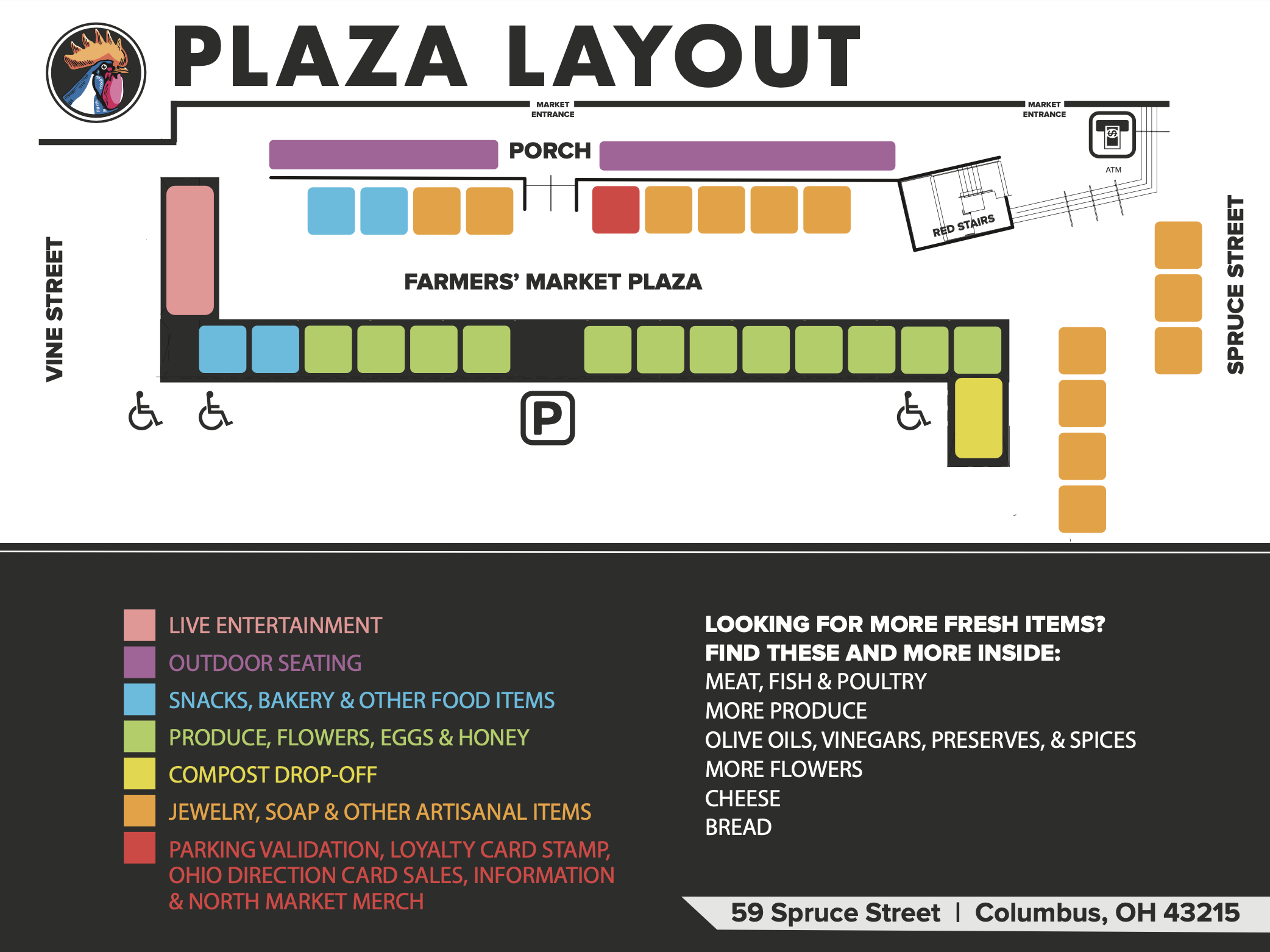 SNAP/EBT
As in past years, North Market guests will be able to visit the Farmers' Market info booth (Saturdays only) or the Business Office (during regular Market hours of operation) on the second floor to use a SNAP/EBT card to buy SNAP-eligible foods at North Market! North Market is proud to participate in the SNAP/EBT program, which helps low-income families access more fresh fruits and vegetables while supporting local farmers and growing local economies.
North Market Downtown
59 Spruce St.
Columbus, OH 43215