August Updates – North Market Bridge Park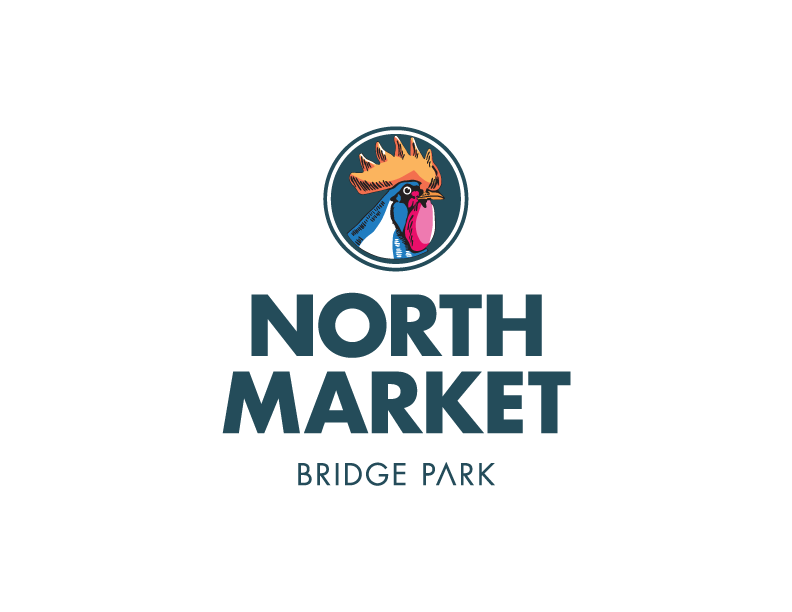 North Market Bridge Park News
North Market Bridge Park News
Hours of Operation
Sunday: 9:00am-8:00pm
Monday: 9:00am-8:00pm
Tuesday: 9:00am-8:00pm
Wednesday: 9:00am-9:00pm
Thursday: 9:00am-11:00pm
Friday: 9:00am-11:00pm
Saturday: 9:00am-11:00pm
North Market merchants may alter their individual business hours according to business category. Each merchant's individual hours are posted and kept up to date on the North Market website on their business pages.
Work From Here popping up Tuesdays in August!
Work From Here brings people and spaces together through pop-up coworking. Starting August 2, guests can join a community of remote workers at North Market Bridge Park every Tuesday from 9:00–4:00.

Bring your work, bring a friend, and bring your appetite. Work From Here and North Market will take care of the rest — WiFi, ample charging stations, free coffee, at an exclusive area inside the market. Follow @wfh_columbus or visit workfromhere.space for more info!
From fresh produce, flowers, jewelry, clothing, and more… North Market Bridge Park's monthly pop-up vendor list is now posted on our website! We've added several week days to the schedule as well! Check it out:
Local musician Jesse Michael Barr is here on Thursdays from 5pm-8pm performing inside the Market! Several of our merchants also offer happy hour specials!
Join us on the patio at North Market Bridge Park for your own tropical stay-cation!
This weekly event brings you the soothing sounds of a tropical getaway with some of Ohio's best DJs and Live bands! Island Sundays takes place from 4:00pm to 7:00pm, rain or shine.
Who's grilling out this weekend?! Come by and see us today; plenty to choose from here for your special meals.

Come find the finest locally sourced meats, dry goods, and sammies in Dublin all at one spot.
Find delicious gluten free treats at Bake Me Happy next time you're at North Market Bridge Park!

Bake Me Happy is always coming in hot with the classic treats! Whether it's iconic cookies like the Oatmeal Creme Cloud or these amazing dairy-free cookies and cream brownies, they've got the goodies.
Golden, flaky croissants at Bread Bakery & Cafe include a tiny bb crock of jelly or preserves! BREaD Bakery + Café focuses on a savory bread assortment (including French baguettes, ciabattas, a range of sourdough loaves, cheesy loaves, and cheesy baked snacks), an expanded offering of sweet items, and new ready-to-eat items such as baguette sandwiches, tartines, and savory croissants. BREaD Bakery + Café also offers coffee and tea to complement their core and seasonal menu items.
Bubbles, boba, jellies…add any one of these to your tea at Bubbles Tea & Juice to add a little pizzazz 👯‍♀️🧋
At Coast to Local Market, we pride ourselves on having the BEST selection of fresh oysters in town. Happy Hour specials from 3pm-5pm every day. Shucked to order! Plus, stop in this week and check out our FRESH new menu items. Pick up ingredients for your next fabulous meal!
Grab some authentic Mexican Street Tacos of our signature Dos Hermanos style tacos and enjoy with your favorite beverage!⁠

Book our Food Truck or Catering for your next event! Planning a graduation, wedding, golf tournament, or other private party, we are here!
Falafel stuffin' at Falafel Kitchen at North Market Bridge Park. Best falafel we've ever had and also: best hummus and baba too!
Hot, fresh slices from Gallo's Pizzeria at North Market Bridge Park always hit the spot. Order online at gallosonhigh.com or call 614.683.8784!
Hoyo's Kitchen at North Market Bridge Park is offering their full menu! In addition to sambusas and juices they also have all their other popular menu items as well!
The sushi at Kintsugi Sushi is truly legendary! Once you've had it, you're not gonna be thinking about other sushi… Just saying! (Pictured: the Cbus Roll)
Not feeling like meat? Not even shrimp?? Pro-Tip: the salt and pepper tofu at Lan Viet at North Market Bridge Park is INCREDIBLE. Especially with a dollop of peanut sauce!
Mac and Peas, please! — creamy, cashew-based sauce, macaroni noodles, peas, topped with dill, crispy onions, bacon bits, and cracked pepper. MMMM!!!

All menu items at The Little Kitchen are vegan! Many are gluten free or can be made gluten free upon request!
Market Bar's Cocktail for a Cause
Market Bar's Happy hour!
Monday – 9am-5pm
Tuesday, Wednesday, Thursday, and Friday – 3pm-7pm
includes $1 off all cocktails, draft beer, and wine pours!
#winewednesday continues every Wednesday from open to close: $5 corkage on bottles and $1 off all wine pours.
New month! New cause!
Our cocktail for a cause for the month of July is a Strawberry Peach Margarita!
🍓🍓🍓
The cause is Marburn Academy. The finest education for bright students who learn differently. Visit marburnacademy.org for more information. Cheers!
Check out this delicious fusion of some of our favorite flavors in Pasta Ditoni's Gorgonzola Pear Ravioli! Filled with gorgonzola cheese, creamy Ricotta cheese, and pears, their Pear Ravioli is something to write home about 😋

They also recently launched a line of new private label dry goods! Great for cooking and adding that extra pizazz to a home cooked meal.
Ever just want a "Cook Out For One"? Or two? The Pit at North Market Bridge Park has you covered.

Stop by and try The Pit BBQ Grille's award-winning Polish Boy, Polish Girl, Pit Bowl, and Pit Fries.

For the month of March, we're offering $2 off all Signature items:
Pit Bowl
Pit Fries 
Polish Boy 
The Pit BBQ Grille makes their signature BBQ sauce in-house every day and all of their sides are made from scratch!
SAVE THE DATE! Wine Fest at the Market!
Save the dates for our Wine Fest at North Market Bridge Park! Friday, September 16 and Saturday, September 17!

Tickets will go on sale in the next couple weeks — Stay tuned for more details!
Pick up a gift card online and have it shipped to you or purchase in person in our office!

The new Gift Cards are valid at all merchants at both North Market Downtown and North Market Bridge Park. Click for more info!
About North Market
 
In operation in downtown Columbus, Ohio since 1876, North Market Downtown is Central Ohio's historic public market. 2020 brought the revolutionary opening of North Market Bridge Park, a new public market located in the City of Dublin at the Bridge Park development.
Downtown, 35 best-in-class merchants uphold the standard of excellence in product and services residents have come to expect from Columbus' beloved public market. North Market Bridge Park currently has 17 open merchants that are some of the finest tastemakers in the region. Both Markets offer a wide variety of fresh produce, meat, poultry, seafood, flowers and other specialty food items. The Markets also provide an international selection of freshly prepared foods, distinctive gifts, and personable service from owner/operators.
The two locations are managed by the North Market Development Authority, a not-for-profit 501(c)(3) organization. The North Market Development Authority has made it its mission to provide an authentic Columbus, Ohio experience with local merchants, farmers, and makers serving the community and its visitors. As central Ohio's oldest public market, North Market highlights the diversity and vibrancy of our community, both economically and culturally by promoting and incubating "best-in-class" local, independent businesses.