Holiday Wine Favorites @ The Barrel and Bottle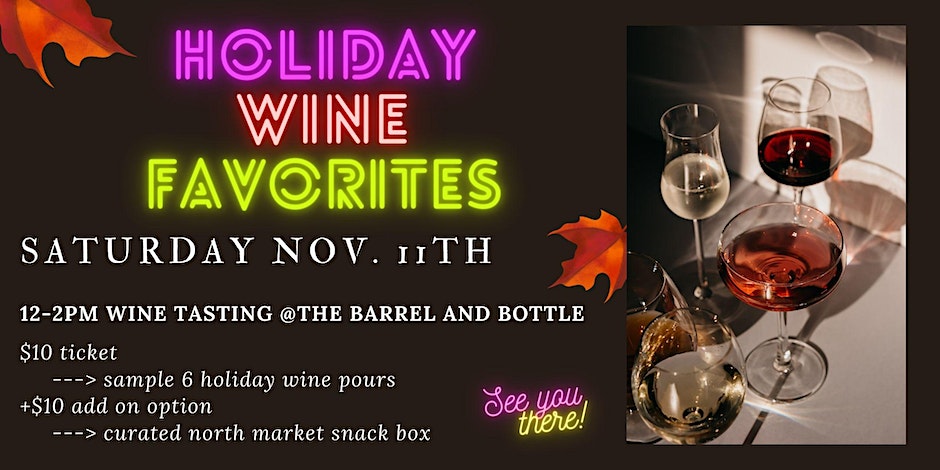 Holiday Wine Favorites @ The Barrel and Bottle
Join us as we sample 6 fun and seasonal wines – each geared to pair with all of the hearty elements of the meals that the upcoming holiday months have in store! At the end of the tasting you will have the option to purchase the wines you tasted…. 10% off if you take home all 6!
The tentative tasting lineup:
1. Altos de Montanchez "Vegas Altas" Sparkling – What are the holidays without bubbles? Macabeo, Xarello, and Cabernet Sauvignon shine here is this leesy Spanish sparkling wine.
2. Thierry Chardon "Les Chardons" Sauvignon Blanc – This riper expression of Sauvignon Blanc hails from Touraine, I'd cozy up with a flannel and some roast chicken to enjoy this.
3. Michi's Farm Orange – Pushing boundaries a little, this fun orange wine from Austria is very approachable.
4. Les Tetes Tete Rosé – Rosé of Gamay and Grolleau from the Loire Valley, finished in concrete. 
5. Domaine Pegaz Beaujolais Villages – Gamay all day, classic Beaujolais is perfect this time of year. Nuff said.
6. Fabio Farracane "Guancianera Rosso" – 100% Nero D'Avola, notes of blueberry and spices on the nose. Great for the holiday table.
Our friend Eddie from Voyager Beverage will also have some educational tidbits to share about each wine – which you can totally use on your your dinner guests, they'll think you're on your way to becoming a Sommelier yourself!
In addition to sampling these 6 wines with your ticket price, there is the add on option to purchase a snack box we have curated to go along with the tasting. All of the snacks found within are sourced from fellow North Market vendors!
follow us online @thebarrelandbottle for more fun events!