Valentine's Day Market at North Market Bridge Park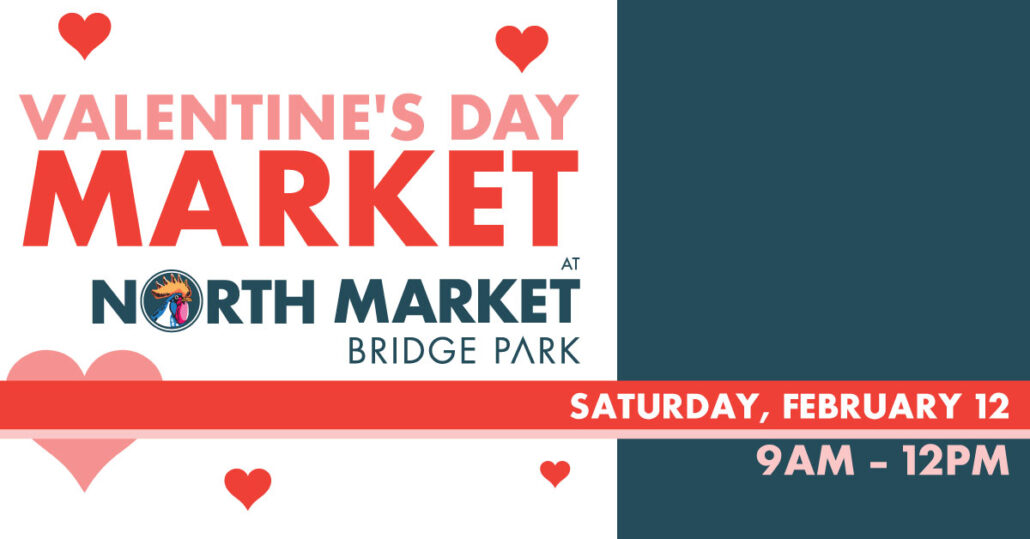 JOIN US AT NORTH MARKET BRIDGE PARK ON SATURDAY, FEBRUARY 12 FOR A FESTIVE VALENTINE'S DAY MARKET!
What you'll find at the Valentine's Day Market:
* Vendors selling gifts & goods indoors (9:00am – 12:00pm).
* Merchant specials throughout the day.
* Ingredients and other meal items from our fabulous merchants.
***
VENDOR LIST
Ellery
Usborne Books and More
The Sweater Lady
3rd & Spoon LLC
Petals that Inspire, LLC
Choco.flowers (Fix my house LLC)
Sweet Mamas Cake Pops
Mmelo Boutique Confections
Wren & Sparrow Soy Candles
Herbal Scentsations 
MRLY
Art Rituals LLC
Pamir Gems and Jewelry LLC
Red Barn Sign Company 
Lauren Alexander Designs
SquidCat, Ink
SpreadLaLuz
JM Botanicals
Healthy Pup Stuff
Metanoia Jewel
***
MERCHANT SPECIALS
* Bake Me Happy will have holiday themed items that weekend like our conversation heart cookies, PopHearts, cupcakes and more!
* The Pit BBQ Grille is offering their Pit Sampler: 3 meats and 3 sides with cornbread. Sharable for 2 people for just $30!
* The Little Kitchen will have two special valentines milkshakes: the first is a strawberry raspberry swirl milkshake and the second is a chocolate covered strawberry milkshake.
* Black Radish Creamery is offering a Breakfast Sandwich with egg, our cheese, and chorizo on local sourdough.
* This month's specials at Pasta Ditoni's include Brie and Sun-Dried Cherry Ravioli and the Monterosa Cake which is a creamy mix of mascarpone and ricotta chesses with a delicate layer of sponge cake.
***
SIP & STROLL TICKETS AVAILABLE
From 11am-1pm, Market Bar + sommelier Megan Faye Dawson are hosting a Valentine-themed walk-around wine tasting during the Valentine's Day Market at North Market Bridge Park. Sample a variety of 4 unique wines you never knew you loved and stroll around the market. 
CLICK HERE for details or to purchase tickets
!
***
The application to apply as a vendor at North Market Bridge Park's Holiday Market is open until February 5, 2022. Please continue check ManageMyMarket for all North Market vendor opportunities!