Kalamata's Tasting Tour at North Market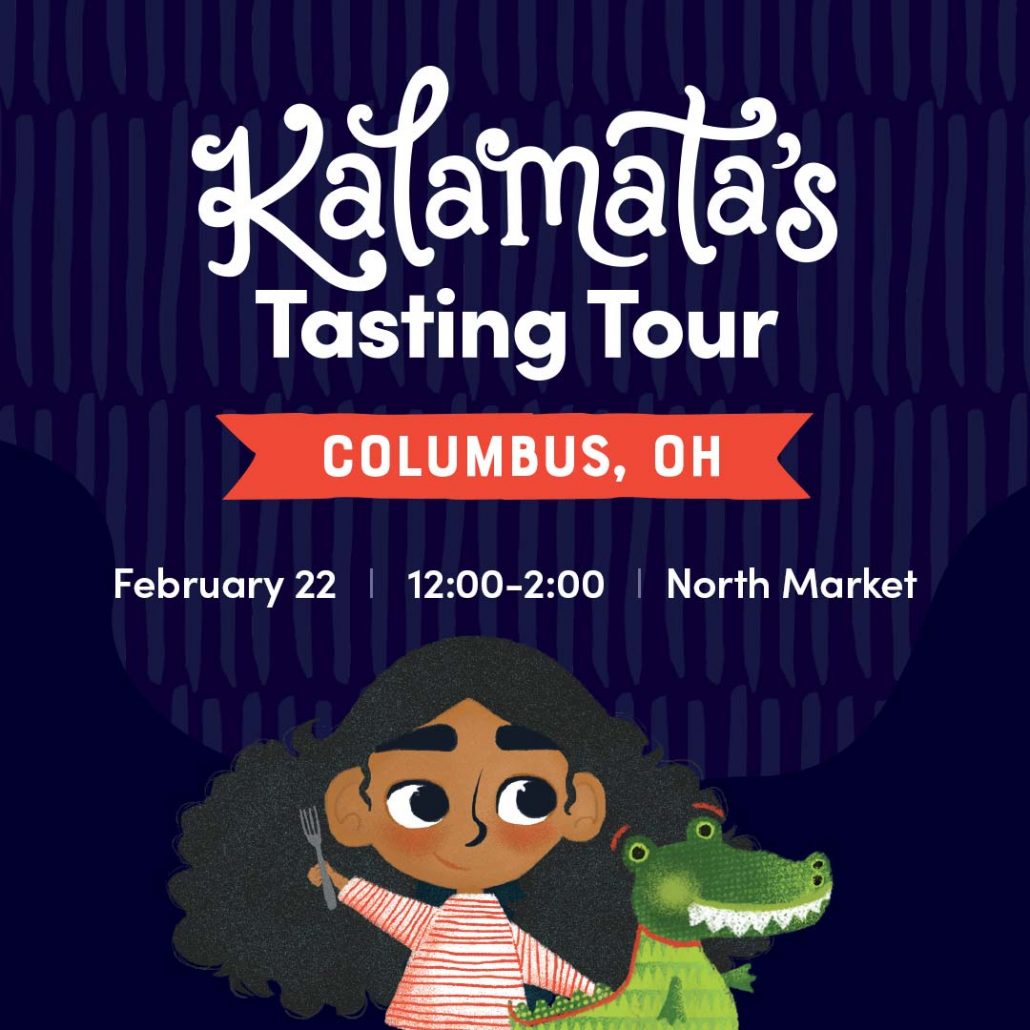 (February 19, 2020) – North Market is pleased to share the return of Kalamata's Kitchen Tasting Tour on Saturday, February 22, 2020. Kalamata's Kitchen will kick off a 12-month, 12-city tasting tour in Columbus, Ohio. This premier event for kids and families will feature tasty bites from North Market vendors representing food from around the world. Every child is treated like a VIP as they 'travel with their taste buds', discovering each new flavor together. Kids receive a VIP badge and a Food Adventure Passport that is stamped each time they try a new food. Featuring a Kalamata's Kitchen display, children can pose next to Kalamata and her pal Al Dente, and meet Sarah Thomas, co-founder and author of the Kalamata's Kitchen  book series. With stories, kid-sized bites and surprises throughout, the tasting tour gives kids the chance to create their own food adventure. NORTH MARKET TOUR DETAILS SATURDAY, FEBRUARY 22, 2020 | 12 PM (ends at 3 PM) North Market 59 Spruce Street Columbus, Ohio 43215 COST Free and open to the public WHY Kalamata's Kitchen is on a mission to help kids learn about new cultures through adventures with food. They host kids tasting tour events throughout the U.S., giving children a chance to be curious and courageous as they try new foods and learn about unique perspectives from celebrated chefs. These events are a cornerstone of the team's belief that kids who are curious and courageous with food will develop empathy and nurture a passion for giving back. Kalamata's Kitchen also offers an in-home food adventure passport for children to extend the tour as they try new things at home. All profits generated from book/product sales will be donated to Mid-Ohio Food Bank. Kalamata's Kitchen has introduced a series of books in partnership with celebrated chefs, including Chef Éric Ripert of Le Bernadin, and has received endorsements from famous Taste Buds like Chrissy Teigen and Padma Lakshmi. RSVP at the website or facebook event page: WEB – CLICK HERE! FACEBOOK EVENT – CLICK HERE! 
About Kalamata's Kitchen Kalamata's Kitchen, LLC. launched in 2018 and was co-founded by Derek Wallace and Sarah Thomas with a mission of helping kids learn about new cultures through adventures with food. The brand offers engaging live events, a collection of books featuring renown chefs, the Taste Bud Travel Guide, games and kids kitchen tools. Featuring Kalamata and her pal Al Dente, the brand nurtures a curiosity for food and cultures in conjunction with some of the world's most celebrated chefs. In partnership with Imagine Entertainment Kids+Family, Kalamata will come to life in an animated series. Her books will reach children and families everywhere in partnership with Penguin Random House. Together, the team and partners of Kalamata's Kitchen set out to create a new generation of curious and compassionate eaters around the world. Kalamata's Kitchen invites friends to take the Taste Bud Pledge and explore her world at www.kalamataskitchen.com. About North Market In operation in downtown Columbus, Ohio since 1876, North Market is Central Ohio's historic public market. 2020 will see the revolutionary grand opening of North Market Bridge Park, a new public market located in the City of Dublin at the Bridge Park development. Downtown, more than 30 best-in-class merchants uphold the standard of excellence in product and services residents have come to expect from Columbus' last remaining public market. North Market Bridge Park will feature approximately 20 of the finest tastemakers in the region. Both Markets offer/will offer a wide variety of fresh produce, meat, poultry, seafood, flowers and other specialty food items. The Markets also will provide an international selection of freshly prepared foods, distinctive gifts, and personable service from owner/operators. The two locations are managed by the North Market Development Authority, a not-for-profit 501(c)(3) organization.