Launching Mercato Grocery Delivery at North Market Downtown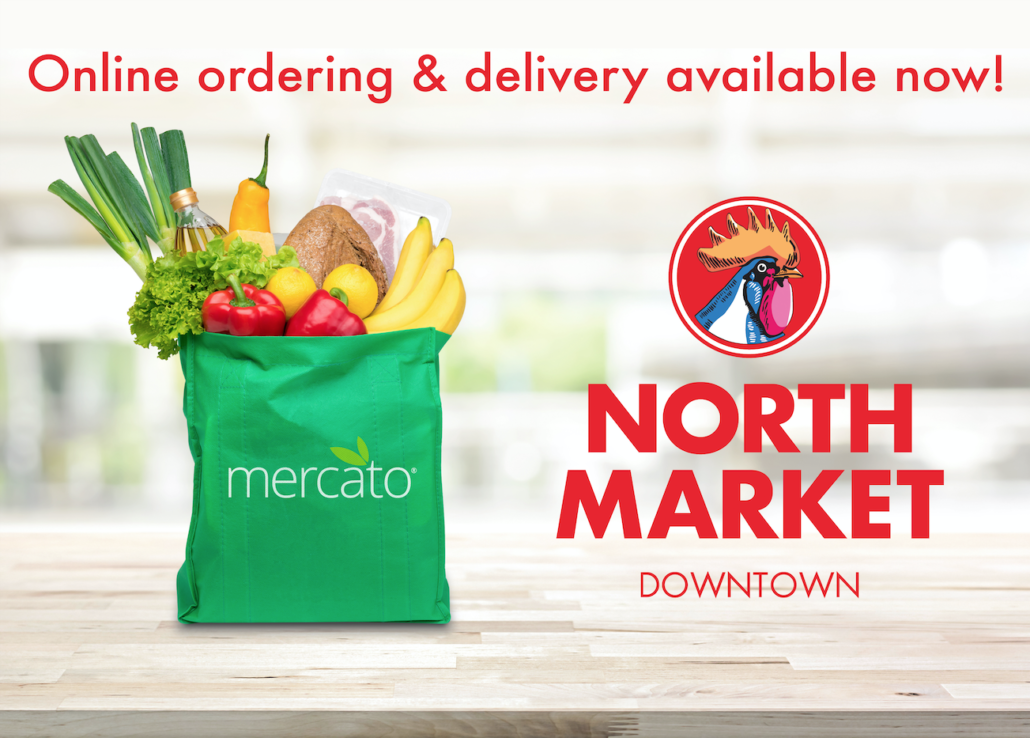 North Market is thrilled to share that Mercato grocery delivery is officially here! Operated by Mercato, a third-party grocery delivery service that specializes in independent grocers and public markets, the North Market deliveries will launch with an initial list of participating merchants. Additional merchants will be added in the near future.
The North Market Mercato Shop is now open to place delivery and pick up orders. During the ordering process, customers choose from available delivery or pick up windows.
Update: as of January, delivery and pick up windows are now available on Saturdays and Sundays!


"This past Spring, the pandemic delivery bundles were hugely important for many of our merchants to stay afloat, and for guests stuck in quarantine to safely purchase groceries," said North Market Executive Director Rick Harrison Wolfe. "We knew we had to find a permanent delivery solution to help our community. Mercato has helped North Market navigate the tricky business of grocery delivery and we are thrilled to be working with them to fulfill your orders!"
Following the successful internally operated pandemic delivery program offering many "bundle" options for guests, North Market merchants and guests alike are now able to utilize this permanent delivery solution.
Mercato offers customers a delivery subscription option called Mercato Green, which helps cut down on delivery fees. Upon launch, any new North Market customers that sign up for a 30-day free trial of Mercato Green can get $10 off an order of $35 or more using code NORTHMARKET10. Code expires at 11:59pm on December 25, 2020.
North Market will also launch Mercato grocery delivery services at North Market Bridge Park early next year.
North Market Downtown Merchants with Mercato Delivery Items Available:
This is the initial list, additional merchants will be added soon!
 
American Nut Company
Barrel & Boar
Black Radish Creamery
Block's Bagels
Coastal Local Seafood
Flavor & Fire
Green Olive Company
Jeni's Splendid Ice Creams
Mini-Super
Momo Ghar Market
North Market Spices
Park Street Poultry & Game
Pastaria & Sarefino's
Penny's Meats
Stauf's Coffee Roasters
The Barrel and Bottle