North Market Holiday Specials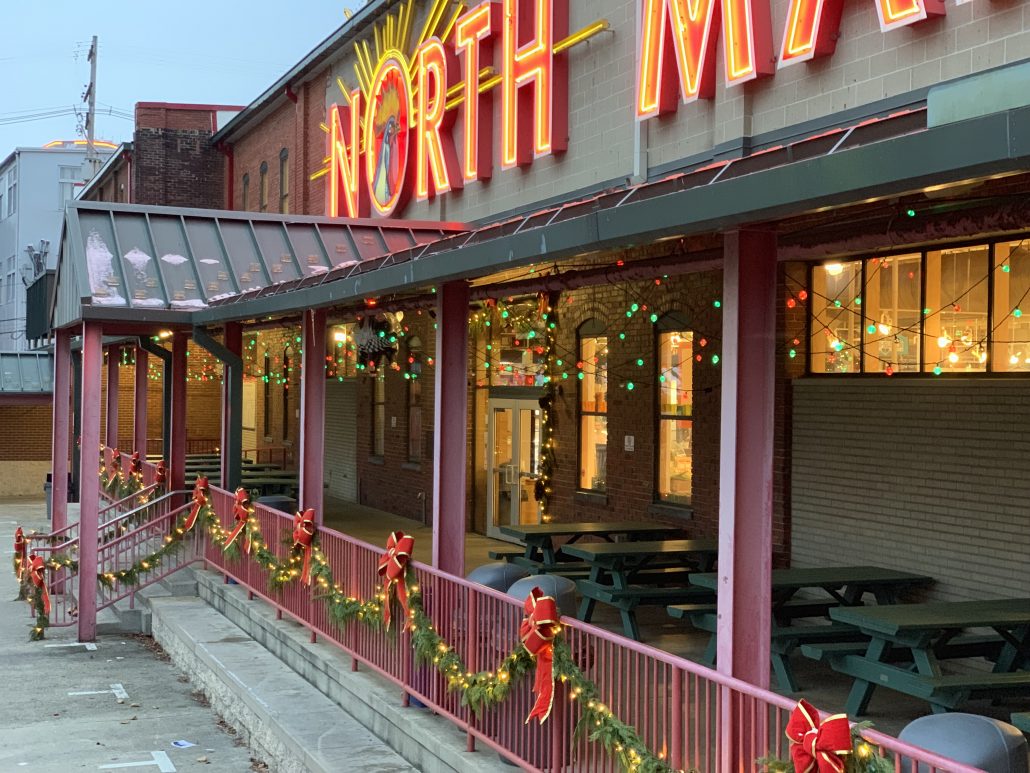 2018 Holiday Specials
Swing into the North Market for your holiday gift shopping and find unique additions to your parties or meals from all of our merchants! We're open regular hours prior to Christmas, CLOSED Christmas Day and New Year's Day. We're proud to be the home of 35 small businesses, some of whom may choose to alter their hours of operation around the holiday. Please inquire directly if you would like to visit a specific merchant! See below for a listing of North Market merchant holiday offerings and seasonal specials. Happy holidays from Your North Market! 
Black Radish Creamery
The cheese experts at Black Radish Creamery will help you check that "Foodie" off your list! This holiday season we are offering a variety of holiday gift packing as well as a convienient "Build Your Own Gift" Option!
We've selected our shop's top sellers & compiled them in list form so you can just swing by fill out the form, go enjoy some lunch and return to a perfectly packaged gift that is ready to give! Don't see something on the list that you want in your gift box? No worries! You can add ANY of our items ala-cart to your box.
---
Penny's Meats
Bone-in Angus Rib Roast – $17.99/lb (SAVE $0.50/lb!)
Whole Angus Beef Tenderloin – $21.99/lb (SAVE $3.00/lb!)
Lamb Legs Bone-in and Boneless – $12.49/lb & $12.99/lb
---
Brezel
Now offering 50% off certain apparel (styles, colors, and sizes are limited)!
---
Bubbles, The Tea & Juice Co.
The following seasonal special teas are now available (can be served hot or cold)!
Gingerbread Chai
Eggnog Thai
Salted Caramel Chai
Mint Matcha (pictured)
Pumpkin Chai
Peppermint Mocha
---
Omega Artisan Baking
Omega Artisan Baking offers wonderful classic and seasonal baked goods! Check in with the bread experts to see what is on the menu this holiday season – you won't be disappointed!
---
Park Street Poultry & Game
Celebrate the season by gifting a holiday bird! Honestly, who wouldn't be excited to receive one of these plump lil' ducks from Maple Leaf Farms? Roasted duck is one of the great joys in life – and you could also deep fry it like a turkey! Unlike turkey tho, we recommend cooking duck to medium, with a bit of pink still in the meat. This will keep it tender and flavorful. Duck breasts and legs are also available
---
Hot Chicken Takeover
Give warmly this holiday season. HCT gift cards and select merch items are now available online! Also, when you buy $50 worth of Hot Chicken Takeover gift cards both in stores or through our new online shop, you'll get a free meal pass.
---
Market Blooms
Market Blooms has perfect gifts to spruce up your holiday gathering or present to your host/hostess!
In addition to floral arrangements, wreaths, poinsettias, they also have pine cones! Frosted or plain, they're great for an added seasonal touch!
---
The Barrel & Bottle
The Barrel & Bottle offers 10% off a case of wine (12 bottles) as well as FREE TASTINGS with local beer on weekends in December. Check out their instagram @thebarrelandbottle for more details!
---
Dos Hermanos
Dos Hermanos is now featuring their traditional tamales ($3), gift cards, and t-shirts ($25).
New dessert on the menu – Flan! Individual sized flan is just $5 and a large is $40.
---
NORTH MARKET
For a limited time North Market t-shirts, totes, and tank tops are now on sale for $16 each (regularly $20)!
---
Flavor & Fire
Gift Bags and Boxes
Any Six Flavor & Fire Sauces in gift bag for just $32.50
Four Flavor & Fire Classic Sauces in gift box for just $20
Choose pre-made or design your own!
---
Green Olive Company
Green Olive Company's gift sets and minis make the perfect gift for the foodie in your life! Stop in and pick out your favorite olive oil and vinegar flavors to share!
---
Little Eater
Little Eater's holiday boxes are full of specialty food items and provisions crafted by Ohio food makers. Choose from pre-wrapped selection or customize your box and we'll wrap it up for you. In addition, receive a complimentary meal card for every $50 purchased in Little Eater gift cards. The Vegetable Butcher cookbook also makes a lovely gift for every food-lover!
---
Taste of Belgium
Seasonal waffle favorite – GINGERBREAD – now available!
Taste of Belgium's waffle four-packs are now $20 for two (SAVE $4)! (Available in original and gingerbread flavors)
For every $50 in gift cards, receive a free $10 gift card.
---
Stauf's Coffee Roasters
Stauf's Holiday Blend whole bean coffee is available now for $19.95/lb, along with seasonal Eggnog Latte (prices vary by size).
---
Coco Cat Bakery & Chocolates
Fresh, hand made and always unique, that is what Coco Cat is all about! Let us curate a selection of holiday confections for an intimate gathering of your friends or a large, seasonal platter for your office party – all with your budget in mind. Corporate and client gift baskets are our specialty!
---
Mini-Super
Celebrate the holiday season with local produce found at Mini-Super, North Market's produce bodega!
---
Pistacia Vera
Visit Pistacia Vera for lovely holiday gifts. From seasonal macaron gift sets, to cookies and gift cards – you'll find a decadent treat for everyone on your list! Local delivery available.
---
The Fish Guys
Let the Fish Guys help you create a fun and relaxed atmosphere for you and your guests. Our artfully designed platters a chock full of the freshest seafood items. We offer platters of all one type, such as shrimp, or can mix from our selection of the high-quality seafood. Crab Claws, Shrimp and Mini Crab Cakes for example. Something in a poached salmon suit the mood better? We can do that.
Give the gift of seafood. The Fish Guys gift-certificates are available in denominations of $20 and $50.
---
NORTH MARKET
Purchase $50 in North Market Gift Certificates and receive a FREE North Market Cookbook!
Available online or at North Market business office. Offer expires 12/31/2018. While supplies last.