Rockbridge and Edwards Announce, "The Merchant Building" Branding for their North Market Project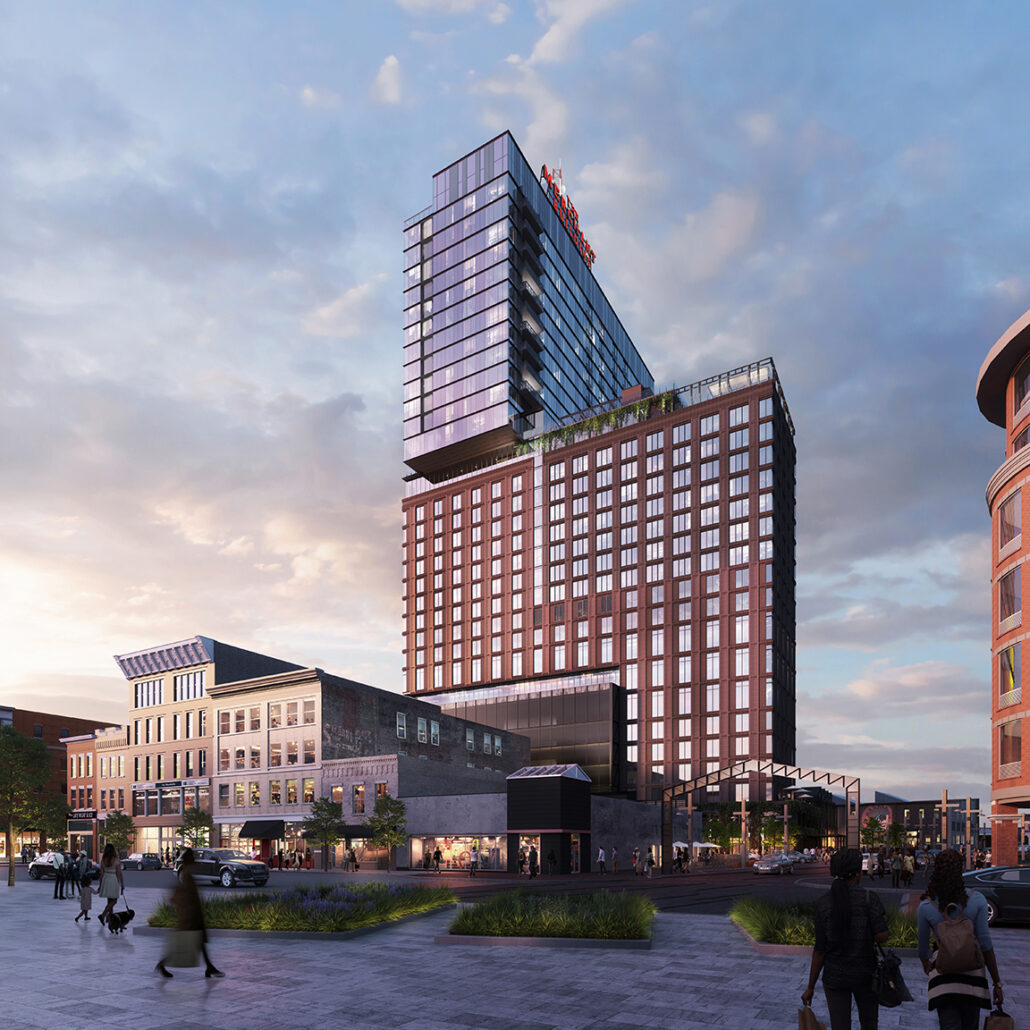 Rockbridge and Edwards Announce, "The Merchant Building" Branding for their North Market Project
COLUMBUS, OH (May 26, 2022) – "The Merchant Building branding is a way for us to honor the legacy of all the merchants who through their grit, determination, and perseverance made the North Market what it is today," said Jim Merkel, CEO, Rockbridge.
Started in 1876, the original North Market clothed, fed, and beautified Columbus through the courage of entrepreneurial merchants. The merchants established a significance to the North Market within the Columbus landscape that has lasted 146 years. This project will expand the North Market by over 50%, give the North Market more revenue sources, and increase overall traffic and demand to the North Market, ensuring its viability for generations to come.
The history of the North Market is the story of America, and many of our City's own merchants persevered despite fires, threats of closure, setbacks, and changes in a neighborhood that at times diminished their customers – but never their spirit.
"We are going to celebrate the merchants throughout all aspects of the Merchant Building– in our design, in our retail, in our restaurants, in our spirit of hospitality and most importantly, in the stories we share," said Merkel. "The spirit of the North Market merchants is the primary source of inspiration – not just for the project's name, but for its vision overall. Visitors, residents, and guests will see this legacy reflected in architectural details, branding of spaces, and features and experiences throughout the property, celebrating merchant stories old and new."
The North Market has always been an incubator of small business and new beginnings. For more than 70 years, Dorothy Gatterdam brought fresh eggs to the people of Columbus at her North Market stand; Marty McGreevy helps brighten the lives of community neighbors with fresh flowers. It was also here Jeni Britton first started making the ice cream Time Magazine has since called "The Best in America," and local entrepreneur, Joe DeLoss, incubated a "fair chance employer" business that helps formerly incarcerated individuals and others who are unable to work rebuild their lives. More recently, North Market gave a home to two brothers, Abdilahi and Mohamed Hassan, who were on a mission to build connection and understanding through Somali food. There are hundreds of these stories about North Market Merchants whose impact, courage, and resilience should be honored as Columbus moves forward.
"This project has always been about protecting the future of the North Market," said Rick Harrison Wolfe, Executive Director and CEO, North Market. "But there would be no North Market without the long legacy of individual merchants who give so much to supporting the cultural and economic health of our city. The Merchant Building name is a fitting tribute to their stories."
"The North Market would not exist without the merchants, and we have grown passionate about celebrating their stories with the Merchant Building," said Jeff Edwards, CEO and President of The Edwards Companies. "The Merchants built the North Market and made it into the iconic and beloved treasure of our community, and we wanted our development to be additive to the North Market destination while building our own identity. We think we have done just that."
Rockbridge and Edwards have been working with architect NBBJ, interior design firm AvroKO, Studio 4D, branding firm Swoon, and in collaboration on design development and operations with Makeready, to advance the programming and character of the project.
The Merchant Building will have over 700,000 SF inclusive of The Merchant Club & Residences, The Merchant Hotel, offices, lofts, restaurants, bars, etc. Every detail has been carefully thought through to create an experience for residents, guests, and visitors unlike anything in Columbus.
###
ABOUT ROCKBRIDGE
Rockbridge, a private investment firm and national leader in hospitality and real estate, has been investing in and developing brands for more than 22 years. The business has made over 286 investments in 38 states worth over $9.8 Billion in total capitalization and has over $3.5 Billion in assets under management. Rockbridge has built a family of hospitality, development, and management company brands. Rockbridge's continued success is in part a result of its core Rocks: Relevance, Relationships, Resilience, and Responsibility.
Rockbridge continues to be honored as a top, philanthropic company, supporting and making a difference in the local communities in which it operates. Learn more at www.RockbridgeCapital.com and Instagram.
ABOUT EDWARDS
The Edwards Companies are widely recognized for their creative approach to the challenges of commercial and residential real estate. As a privately held and nationally recognized family-owned corporation, Edwards Companies operates numerous companies engaged in the businesses of multi-family home building and management, student housing building and management, land development and construction, condominium development, and, notably in relation to The Merchant Building, mixed-use urban development. Edwards Companies specializes in the curation of downtown living experiences through the development of vibrant, walkable communities in energetic urban settings. This is evidenced through Edwards Companies recently delivered and ongoing mixed-use developments – the adaptive reuse of the former Citizens Bank Building, Citizens (Columbus, OH); Atlantic Crossing (Delray Beach, FL); and The Huron (Denver, CO). Learn more
at http://www.edwardscompanies.com/.